WPC decking size : 140 – 25 – 5400
Facia Size : 138 – 10 – 4800
If you're looking to enhance the outdoor space of your home or commercial property, then you're in the right place. Our WPC decking is the perfect solution for anyone who wants to enjoy the beauty and warmth of natural wood without the hassle and maintenance associated with traditional wood decking. Our range of WPC decking is made of high-quality wood fibres and recycled plastic materials, making it an eco-friendly and sustainable option that is both durable and low-maintenance. Whether you're looking for a classic or contemporary look, our WPC decking is available in a variety of colours and finishes to suit your style and budget. With easy installation and long-lasting performance, our WPC decking is the perfect choice for your next outdoor project.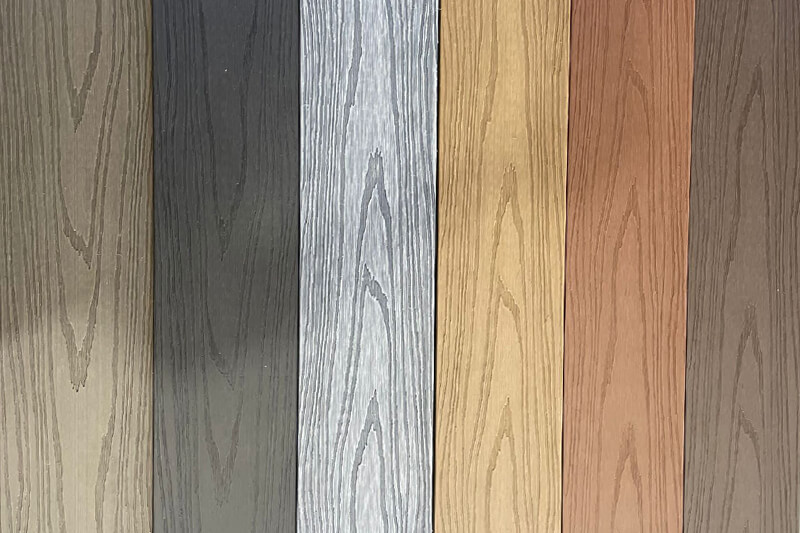 WPC decking, short for wood plastic composite decking, is a composite material made from a blend of wood fibres and plastic. It is a popular alternative to traditional wood decking due to its durability, low maintenance requirements, and eco-friendliness. The wood fibres provide natural warmth and beauty, while the plastic adds strength and resilience, making it resistant to rot, insects, and harsh weather conditions. WPC decking is available in a range of colours and finishes and can be customised to fit any outdoor space. It is a sustainable and eco-friendly option that reduces waste by using recycled materials, making it an excellent choice for environmentally conscious homeowners and businesses.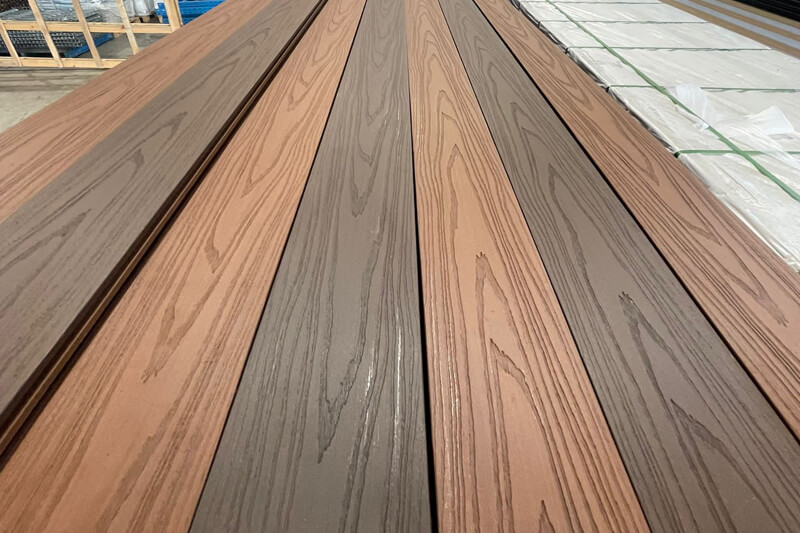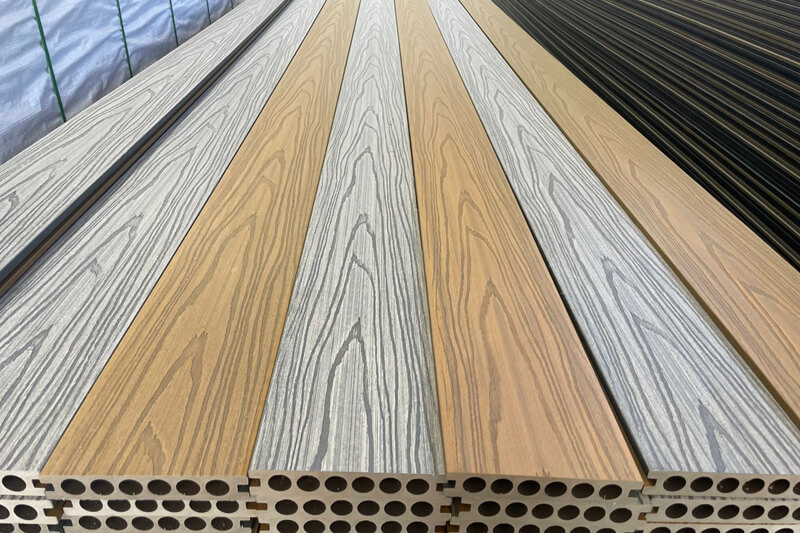 Which is better: composite decking or wood?
Wood decking is a classic choice for outdoor spaces, and for a good reason. It offers a natural warmth and beauty that simply can't be replicated by composite materials. The texture and grain of wood provide a natural and inviting ambience to any outdoor area. In addition, wood is readily available and affordable compared to composite decking. It can also be easily stained or painted to match any home design or colour scheme. While wood decking requires regular maintenance, many homeowners and outdoor enthusiasts enjoy the process of maintaining their outdoor spaces and find it rewarding. Lastly, wood is a renewable resource and biodegradable, making it a sustainable option for eco-conscious consumers.
Applications of WPC Decking
RESIDENTIAL DECKING: WPC decking can be a great choice for creating a beautiful and low-maintenance outdoor living space for your home. It can be used for decks, patios, and balconies and is available in various colours and finishes to suit any style.


COMMERCIAL DECKING: WPC decking is a popular option for commercial spaces such as restaurants, cafes, and hotels. It can be used to create a stylish and durable outdoor area for customers to relax and enjoy the surroundings.


POOL DECKING: WPC is an excellent choice for pool areas due to its slip-resistant surface and durability. It is also resistant to water and chlorine, making it ideal for humid and wet environments. Landscaping: WPC decking can be used for various


landscaping applications such as garden paths, walkways, and borders. It is an eco-friendly and sustainable option that blends seamlessly with the natural surroundings.


PUBLIC AREAS: It is popular for public areas such as parks, playgrounds, and boardwalks. It is strong and durable enough to withstand heavy foot traffic and harsh weather conditions, making it an ideal option for high-traffic areas.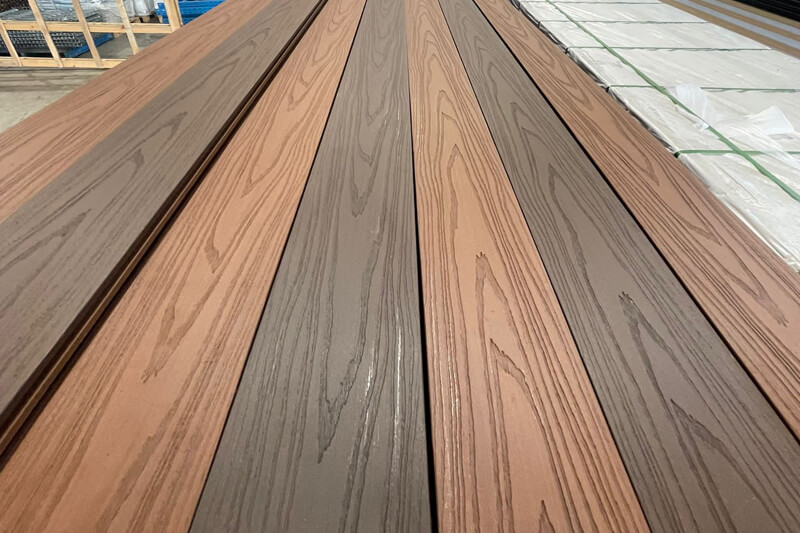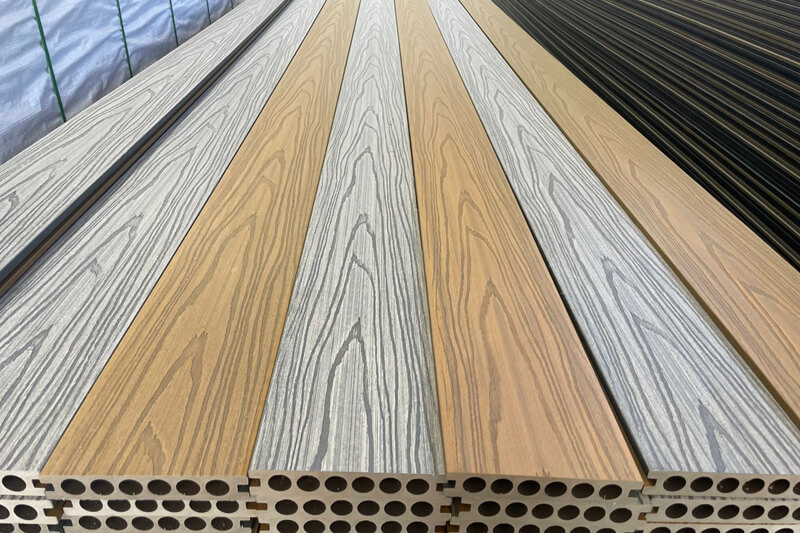 DURABILITY: WPC decking is highly durable and can withstand harsh weather conditions, heavy foot traffic, and exposure to sunlight and moisture without warping, cracking or rotting.


LOW MAINTENANCE: WPC decking requires very little maintenance compared to traditional wood decking. It does not need to be painted, stained, or treated and can be easily cleaned with soap and water.


ECO-FRIENDLY: WPC decking is made from recycled materials and is a sustainable alternative to traditional wood decking. It helps to reduce waste and conserve natural resources.


SLIP-RESISTANT: WPC decking is slip-resistant, which makes it a safe option for outdoor spaces such as pool decks, patios, and walkways.


AESTHETICALLY PLEASING: WPC decking comes in a range of colours, finishes, and styles, which allows homeowners to customise their decking to suit their preferences and outdoor space.


LONG-LASTING: WPC decking has a longer lifespan than traditional wood decking, meaning homeowners can enjoy their outdoor space for years to come.
Installation Through Our WPC Decking Experts
At Auzzie Turf, we have a team of experts who specialise in the installation of WPC decking. Our installation process is designed to ensure that your decking is installed correctly and efficiently without any damage to your property. Our experts will work with you to design and plan your decking, considering your outdoor space, preferences, and budget. We use high-quality tools and equipment to ensure that the installation is done properly and efficiently. Our team will also provide you with maintenance tips and advice to ensure that your decking remains in top condition for years to come. When you choose Aussie Turf, you can rest assured that your WPC decking installation is in good hands.