Artificial Grass Melbourne
Our Residential and commercial artificial grass is specially designed for the indoor and outdoor areas. at first look you might think that all artificial grass is same but that is not a true as all artificial grass are different based on their specification. we are selling premium high end quality Artificial grass Melbourne which give you beautiful looks at your landscaping area till many years. we are one of the leading wholesale supplier artificial grass in Melbourne and Brisbane
As our name suggest, we are all about artificial grass products & services. Auzzie turf has an amazing selection of artificial landscaping turf, perfect for any landscaping job. We have wide range of artifical grass for retail and wholesale customers in Melbourne, Perth and Adelaide. All our products are match with Australian quality and standard.
No mowing, No Watering, No Maintenance
Lush & Green forever.
Why Should You Choose Auzzie Turf?
Auzzie Turf is the ultimate choice for artificial grass in Melbourne due to several compelling reasons. Firstly, we offer premium-quality Artificial Grass in Melbourne, Brisbane that is built to withstand the harsh Australian climate, ensuring durability and longevity.
Our products are environmentally friendly and require minimal maintenance, saving you time and money. With a wide range of styles and textures, we provide customization options to suit any landscape. Additionally, our dedicated customer service and expert installation teams ensure a hassle-free experience, making Auzzie Turf the go-to choose for artificial grass in Australia.
Auzzie Turf uses only the highest quality materials in their artificial grass in Melbourne, so you can be sure that your lawn will look and feel great for years to come. Their products are also UV resistant and fire retardant, making them ideal for the Australian climate.
Auzzie Turf offers a wide range of artificial grass products in Melbourne to choose from, so you can find the perfect one for your needs. They have products that are suitable for residential, commercial, and sporting applications.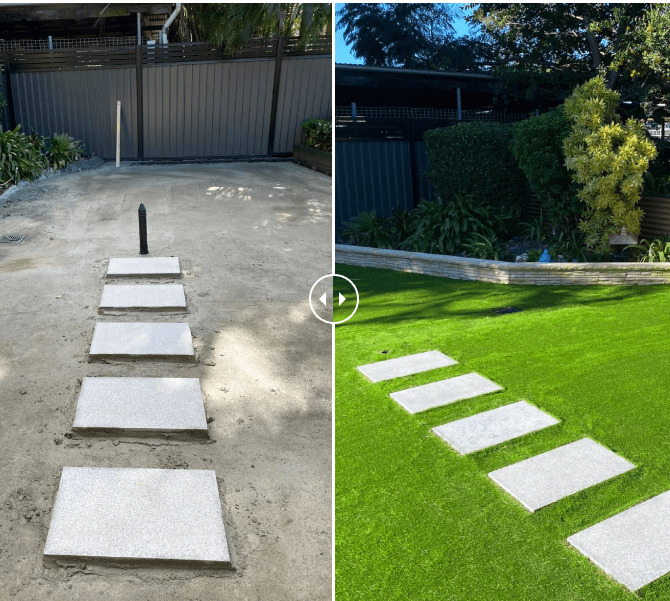 Benefits of
Artificial Grass
Gaurang Ribadiya
Quality products at the best prices. Great advice. Really good people. Very friendly and really easy to deal with. They don't give you any trouble with the product delivery as well. Thanks, Auzzie Group.
Rupinder Chahal
Very nice products and very nice peoples, always delivers at time.
Rajesh Ayer
Quality products and good customer services
Holiday Car Rental
Best quality artificial turf and best price. good customer service with highly knowledgeable people about product.
Sonal Gajera
Good quality of artificial grass and fantastic customer service, thank you so much guys I personally highly recommended auzzie turf.
Bakul Jayani
Best Artificial grass in the town and Great customers service. Good on yeah Sudhir and Ankur for your help.Highly Recommend. Thanks
Dhaval Patel
ordered turf for my backyard Really good quality, very niice people to deal with knowledgeable people about turf highly recomnded
Ankur Savaliya
Quality product , fast service , competitive rate Highly recommended
Virang
Quality grass. Friendly staff. Highly recommended
To help you make the most-informed decision, here are common questions customers ask us. More questions? Scroll down, fill out the form, and just ask.
What are the specifications of artificial grass?
We have variety of stock of Artificial grass Melbourne. There are 3 main specification are important to check when you buy Artificial grass in Melbourne.
* Pile Height: The pile height is the length of the artificial grass blades, measured in millimeters. we have 40mm and 45mm size available. 
* Density : Artificial grass density represent the stiches per sqm. we have  10,500 , 21000 and 23000 density grass in stock. 
* Roll width : We have 2m, 3m, 3.6m, 4m width roll available with 25m length. 
* Dtex: The dtex is a measure of the thickness of the individual artificial grass fibers, and measured in decitex. we have 9500, 11000 and 13000 dtex  available in stock. 
Do you have Glow garden pebbles?
Yes, we have available glow garden pebbles. We also have white, black policed garden pebbles as well. However, we offer a wide range of products including artificial grass, garden pebbles, bamboo panels, silica sand, letter box, WPC decking, stacked stone cladding tiles and many others.
Can you do custom design of bulk bags?
Yes, we can do custom design of bulk bags. We are manufacture so we can design as per your requirements. We have wide range of collection of bulk bags for your need.  
Is your artificial grass long lasting?
Yes, artificial grass is long lasting. It is typically made from durable materials such as polypropylene or polyethylene, and it is designed to withstand all types of weather conditions. Artificial grass Melbourne can last for many years with proper care and maintenance.
Is your artificial grass pet friendly?
Yes, our artificial grass is pet friendly. It is made from non-toxic materials and it is designed to be resistant to pet. Artificial grass is also easy to clean, so you can keep it looking its best even if you have pets.
Are you selling other accessories related to grass?
Yes. We sell a variety of other accessories related to Artificial grass and landscaping such as U nail, Straight Nails, Joint tape, Weed mate, Letterbox, WPC decking, WPC Cladding. 


Are bamboo fence panels long lasting?
Yes, bamboo fence panels are long lasting. Bamboo is a very strong and durable material, and it is also resistant to rot and decay. Bamboo fence panels can last for many years with proper care and maintenance.
Are you deliver anywhere in Australia?
Yes, we deliver anywhere in Australia. We offer a variety of shipping options to suit your needs and budget.
Are you selling garden pebbles?
Yes, we sell garden pebbles in a variety of colors and sizes. Garden pebbles can be used to create a variety of features in your garden, such as pathways, borders, and rockeries.
What is the delivery cost?
The delivery cost will vary depending on the size and weight of your order, as well as your delivery location.